Gearing Up!
One of the largest logistical pieces is ensuring all of students are trained Scuba divers. Some already are, but for the others our trip  really begins with getting them PADI Open Water Diver certified. 
The first of those pieces is to try on gear.
Scuba diving requires a fair amount of specialized gear. For our certification dives students will be diving in much colder water, so it's important to have environmental protection. For example, this lovely wetsuit that Marisol is modeling in her best superhero pose! In Roatan we will need much thinner wetsuits, and it's likely some of us won't need a wetsuit at all
! Yes, the water will be lovely and warm!
We also need hoods, or we loose a lot of heat from our heads. Again, it's not something we need in Roatan, but we will to complete training. Unfortunately, they aren't very glamorous! Here you can see Dolores making it look good. 
In addition to wetsuits, we also need what is known as a Buoyancy Compensator Device (BCD), which Tina is trying on here  This allows you to adjust for the pressure of the water as we descend into the ocean. In short, it's a very important piece of safety equipment because it makes sure we ascend to the surface after our dives!






The other pieces are fins and masks! Each one needs to fit individually. Comfort is very important when you're breathing underwater. The mask helps us to be aware of our surroundings and read our gauges. Masha & Marisol (left) and Lizbeth (right) demonstrate their masks fit!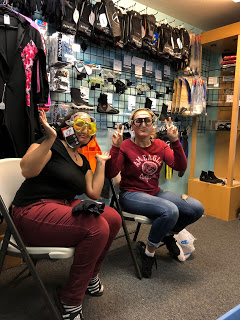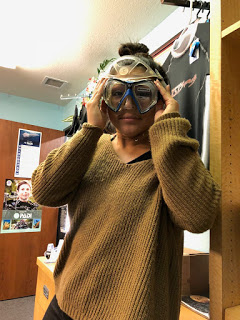 Also, fins need to be powerful enough to push us through the water, particularly if there's a current!
Here, Dolores & Hayley try on fins!







Now that gear is fitted, our next stop is getting everyone PADI Open Water certified!