Classroom and Pool Work!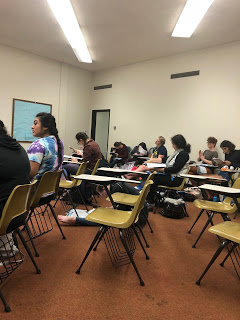 Before getting in the pool, students need to learn about the physics and physiology of diving. They need to know how to calculate safe limits as well as safety procedures. There are a number of tests they had to show mastery of. The classroom portion took place on Saturday and Sunday morning.
Once that was done, then it was time to head to the pool. Pool training is for practical skills. Lucky for us our college pool is deep enough for Scuba training and, on top of that, the weather cooperated!
First, they had to do a swim test: 8 lengths and then a 10 min float/tread water!
Then learning how to put on your BCD to your tank, fitting the regulator, etc. All Scuba divers should be able to assemble and disassemble their own gear. It means you know you've put it together correctly, and this is something your life depends on underwater.
Once that's done, it's time to actually get in the water. Sometimes that's easier than it looks. That equipment can be clumsy.
First steps, shallow end. Can we breathe? Yep!

Students learnt how to clear their masks, to remove their regulator, to signal and start to learn how to control their buoyancy.

Day two, back in the pool, testing we can use our snorkels, masks and fins, then all other skills in the deep end.


Day two! Let's get back to skill development!
Almost time to get in!
And we're in!
We've all our surface safety skills done. Time to go down.
Our next stop is actually getting into the open water. So that's this weekend! See you then!