Saturday: Boat diving, but not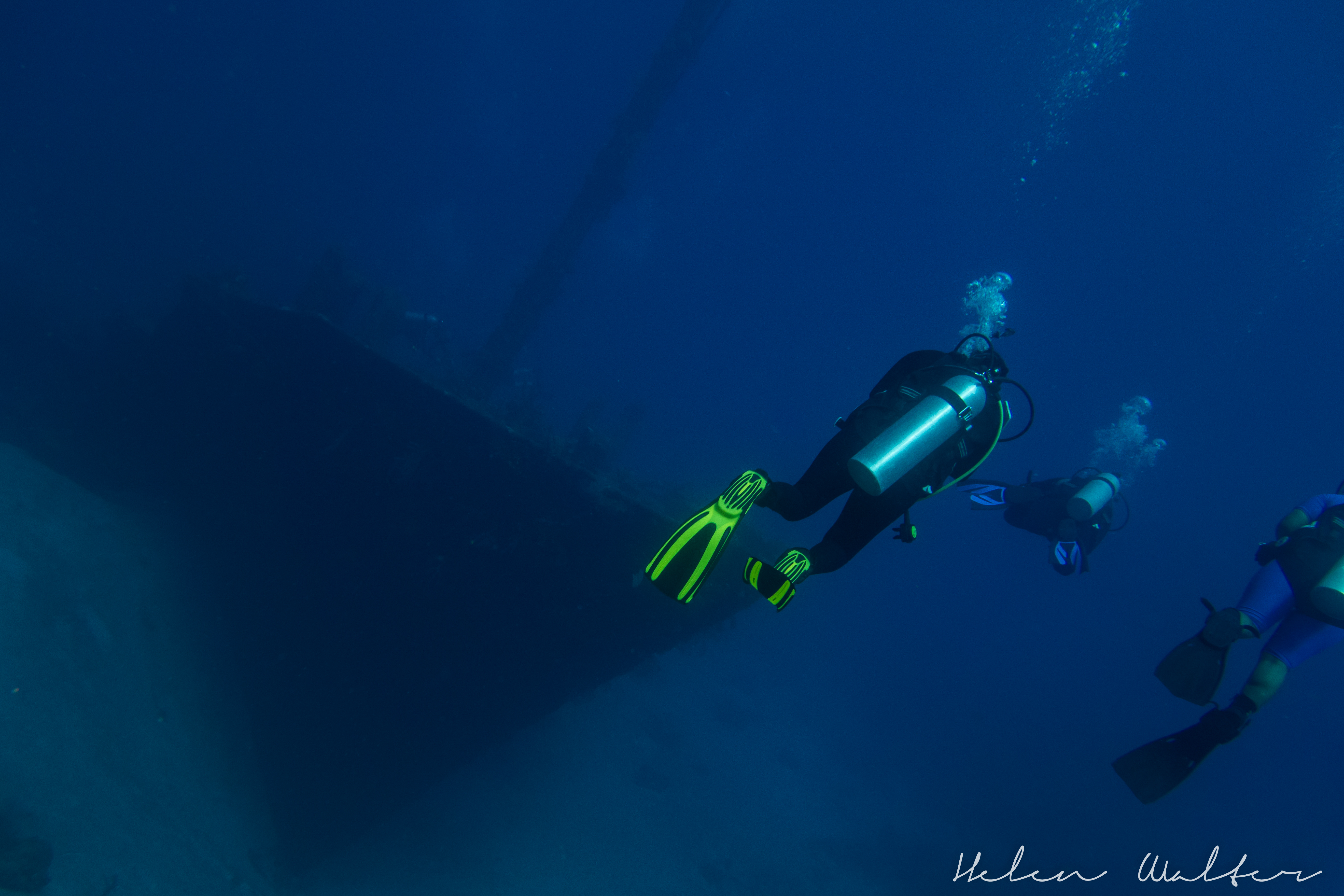 This one is a little late. It was a busy few days 🙂
We started out with breakfast, which Jen joined us for briefly. Then it was time to hear about artificial reefs. We talked about what makes an artificial reef including concrete blocks, or statues, helicopters, boats and other materials. Reefs, that are intentionally made this way, can over time provide a great substrate for hard corals to grow on, and eventually spawn. Wrecks can be great places for coral growth and for fish to find sanctuary. They will over time corrode, and this is a factor of depth – more sunlight means the corals grow faster, but it also means more oxygen which reacts with the iron ore in the steel and causes rust. Ships can be acquired from the US government for free, so long as all contaminants are removed before sinking, because leaving anything behind could risk polluting our waters.
El Aguila, the main wreck here at Anthony's Key, was sunk in 1997. It was originally grounded in Utila, another of the bay islands, possibly as an act of sabotage. El Aguila, the Eagle in English, was towed to Anthony's key, and the concrete it was carrying was removed before they sank the ship. It's a fairly substantially sized wreck at 230 feet, or 75 meters, in length. Originally it was sunk in 110ft feet of water, and was upright, but Hurricane Mitch in 1998 broke it into 3 pieces.
Once lecture was complete we headed down to the docks to meet our divemaster and boat captain. Then it was a short journey our to the wreck. As it's a popular site and very deep, we had a number of safety precautions we'd talked about. When we moored up, we all had to get in the water rather quickly so the captain could drive off and allow another boat to moor up. That done we started our descent. As we were dropped off on the wall, we made our heading to the bow of the boat, where we took our annual shot of us with the Mills banner. We then swam carefully to the stern, being careful not to exceed our depth limit and explored as we could. Our journey along the wreck done, we then swam back at the 60ft mark to the reef where we explored the shallows before heading back to the surface.
I'm never quite sure how to explain a wreck dive to a non-diver. There's something surreal about coming across a man made structure underwater, having it loom out of the shadows in all its angles. I think all our students felt similarly about it.
The life on the wreck is also quite prolific as it's been there quite a few years.
We headed back to the dock, picked up new tanks, and then headed out to the coral nursery site once more. This time we spent the first few minutes collecting trash, though I think Chicora got a little carried away in their trash exploitation! We brought back 2 full gear backs of trash, so a decent amount, but there was still more there. Jen explained this comes as runoff from the towns in the hills, particularly when it rains, which it had on Thursday morning.
Our dive club had raised money for coral trees, and these are currently being made, but we had the opportunity to put one of the anchors into the sand. Hayley and Delaney did a great job, which was finished by Jen and our divemaster.
Meanwhile the students returned to cleaning the trees. When we finished the trees were much cleaner, the white plastic pipe definitely showing.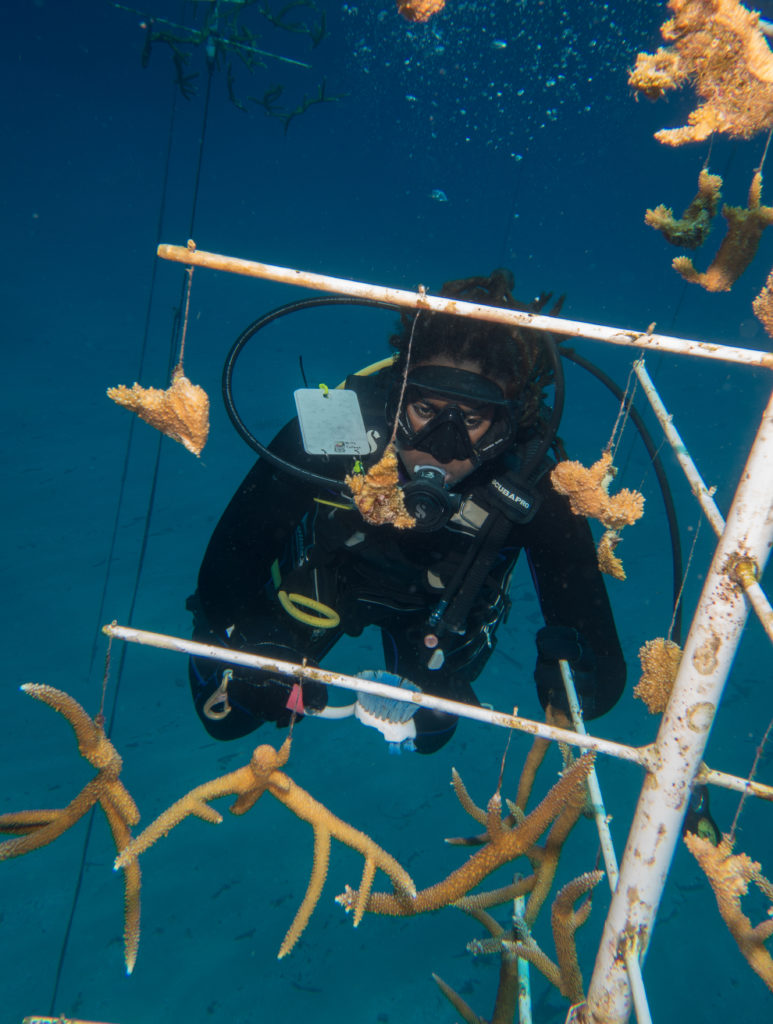 Lunch was next, then a few of us relaxed by the pool until 4pm when we headed into West End for a little shopping. Chicora and I headed for the nearest coffee shop, and then got a few gifts for friends and family. We will see where the pink flamingo turns up! With our second (much better) cup of coffee we settled in to see the sun set and wait for the students.
On our return to Anthony's Key we headed up for our last dinner and one last sunset.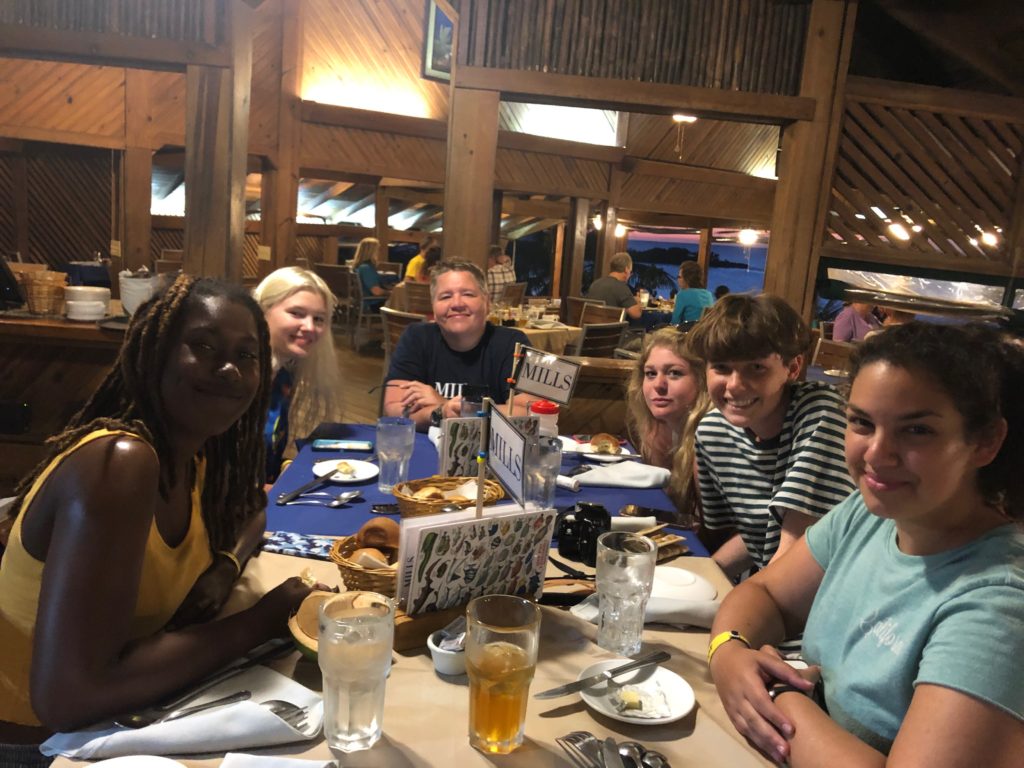 Then it was time for our last community time. We talked a little about lessons we're learned on the trip, our appreciation, and played a round of jeopardy organized by the TAs.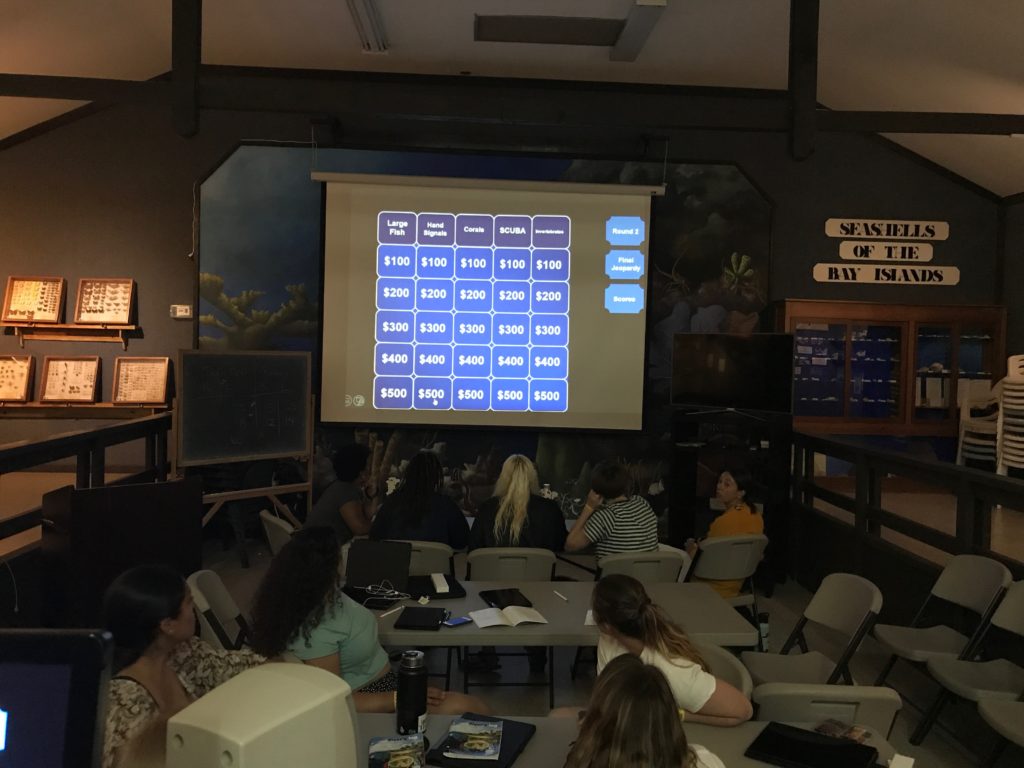 Last, we looked at some of the photos that had been taken on the trip underwater and then headed for bed.