Monday – Our first day!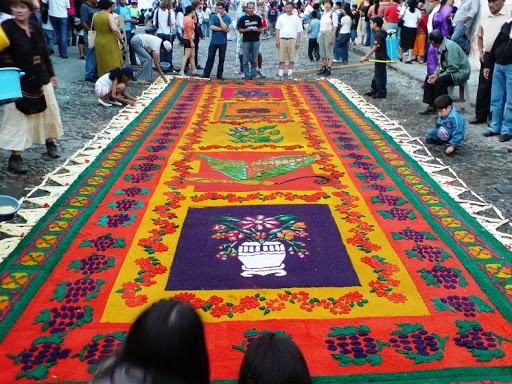 Monday started with a 7am breakfast. Personally I'm not a fan of mornings but if I'm going diving it's amazing how awake I can be. Breakfast was cereal, fresh fruit (amazing), fruit juice and pastries. Then we could each individually order something hot like huevos rancheros, omelette, French toast, or pancakes. And … Honduran coffee. Yum!!

After breakfast we headed to RIMS for a lecture on reef ecology. We learned that coral and algae have a symbiotic relationship which allows them to thrive and ensure the reef stays healthy. We got up close and personal with coral anatomy, reproduction, growth requirements and other unique characteristics about the formations on Roatan.
Then it was time to grab our dive gear, and get on our dive boat. Captain Dean, and our Divemasters Edwin and Alson (I apologize if I spelled your name wrong!) were also introduced and stayed with us for the week. We all got to appreciate Captain Dean's quiet sense of humor and support, Edwin's ability to toss gear around like it was nothing, and Alson's baritone laugh and sense of humor!



We then headed to Melissa's eel garden where our students were put through check out skills of mask clear, and mouthpiece removal. That done we headed off in a big group to check out the reef.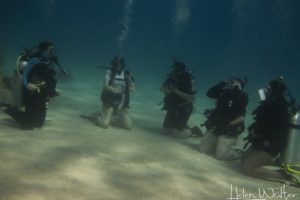 We saw many of the species that we'd identified before we arrived in Roatan. In fact, students were tasked with identifying as many species as they could for their final quiz.


We saw Azure Vase sponges..
And Christmas tree worms..
When everyone got back on the boat we headed to Maya Key. A small island off the coast that is owned by our resort. Here we had a BBQ lunch, then an opportunity to tour the Mayan Cultural Center, Mayan ruin replicas that have been erected. Along with this we saw some of the Mayan pottery, and jewelry.

Some of us also went to see the animals which had been rescued and are now being rehabilitated on the island. Jaguars, pumas, crocodiles, monkeys, toucans, and sea lions were just some of the species we encountered.


Our second dive was at Sea Quest. Another stunningly, beautiful dive.

We saw a huge crab! Larger than many of us have seen before.


And for some their first Hawksbill turtle
We returned home to RIMS for a lecture on ID and behavior where we were introduced to the challenges of marine biology – where the adult male, adult female, and juvenile forms all can differ, as can the day and night forms.
Our day continued with an

amazing three course dinner. A soup or salad, a main hot course, then desert, served by our fantastic w

ait staff Loren and Marcos.
Though we were all tired, we concluded our evening with more community talks, giving feedback to our students about their diving, helping them to improve, then more presentations.
Hayley talked to us about the environment of Honduras, including the mangroves and the rainforests.
Julia introduced us to Honduran traditions including Feria de San Isidro where a quarter of a million Hondurans flock to the town to celebrate in an event very much like Mardi Gras. Semana Santa was also discussed, which is an amazing event where they make elaborate 'paintings' out of colored sawdust.
Sian talked about coffee, a subject many of us were wishing at that point that we had more of as it had been a long day! Sian discussed the implications and benefits of coffee, but also the environmental impact.
Jamie discussed the colonization and sociology of Honduras, discussing how the Mayans were impacted, the arrival of the Spanish and modern day people. Dolores talked about how fashion follows two general trends, the modern and the more traditional. Many of the more traditional dresses are white, with bands of color.
That concluded our community presentations and allowed us to start species presentations. Our first was on the Green Moray Eel by Bianna, followed by Frances' Brain Coral presentation and Tina's Green Sea Turtle's presentation.
That concluded Monday. A very busy day for us all!