Arrival!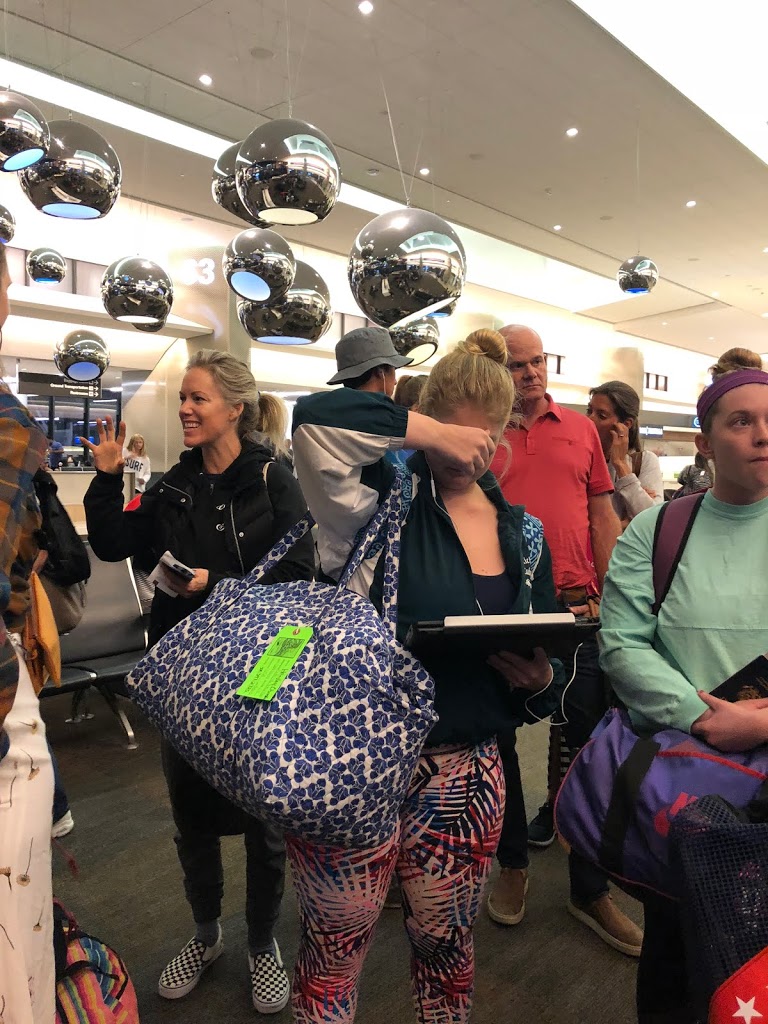 Things happened as planned (phew) and we made it to Roatan.

Last night I picked up Dana and drove to Mills where we loaded Chicora's truck with our gear and then headed to meet the students. All of them were there, so a good start but no shuttle. It disappeared. We worked it out eventually though and got everyone to the airport where we met some of the others.
Check-in was a process. After trying to check in and crashing United's system twice, the United rep, Ray and I decided to do smaller groups. Checking in 4-5 students at a time worked fine. It also meant we could charge two students for luggage at a time, so they now have luggage buddies that they'll check in together going forward. More lessons learnt.
Next up was security. Chicora and I both had Pre-TSA so we quickly headed through to meet students in the other side of security. Dana headed up the back of the student group. A couple of 'what's this?' 'Dive gear' happened and one student had sparkles on something which set off an alarm, but nothing too crazy.
We sat around the gate til our 1am flight left San Francisco making sure students stayed hydrated. I think most of us got some sleep in before we landed at Houston at 6am central.
We sent students to go get breakfast, had some ourselves them headed to the gate. Dana and I then checked in with students about their research projects. One group is monitoring endangered species, in particular turtles. The second group is looking at the biodiversity on the reef. Group three is looking at environmental changes including ocean acidification and micro plastics.
We left Houston around 10am to make our way to the island. A short flight later we were treated to views of this lush, tropical island rising out of the blue tropical waters of the Caribbean. After landing, immigration, picking up luggage and customs, we were met by friendly smiling faces of our host – Anthony's Key.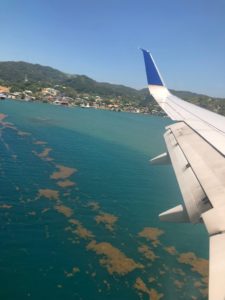 About 20 minutes or so later we drove up to the resort, and because our flight got in early we managed to grab lunch. During lunch Mandy from the resort checked us in, gave us room keys, and then wrist badges so we could have access to all the resorts amenities. Next was checking out our rooms, unpacking and then checking out our gear that we'd be using for the week.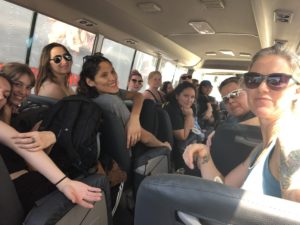 Following that we had an orientation to the field work we'd be doing this coming week at RIMS, the Roatan Institute of Marine Sciences with our scientist Jennifer Keck.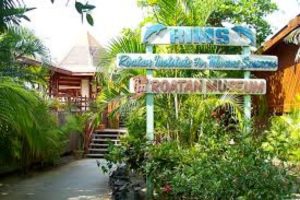 After all the logistics were done, some of us went to snorkel on the back reef and the swim in the pool. All of us were happy to see some of the marine creatures we'd been learning about out on the reef. After having a shower, Dana, Chicora and I appreciated our first island sunset before heading for dinner!

Dinner was an amazing three course menu. A soup or salad, a main hot course, then desert.

While we were all very tired, we still had some work to do. We went over the activities for Monday, reminding them about what to bring and then did some community presentations.

Marisol helped us understand the language a little, a useful tool for those of us who haven't had a chance to learn Spanish, while Frances regaled us on the intricacies of Honduran art, from Mayan to present day.

Then it was time for bed. Well,some of us stayed up trying to deal with bad internet and getting things ready for tomorrow.