Saturday – A Day for Lasts!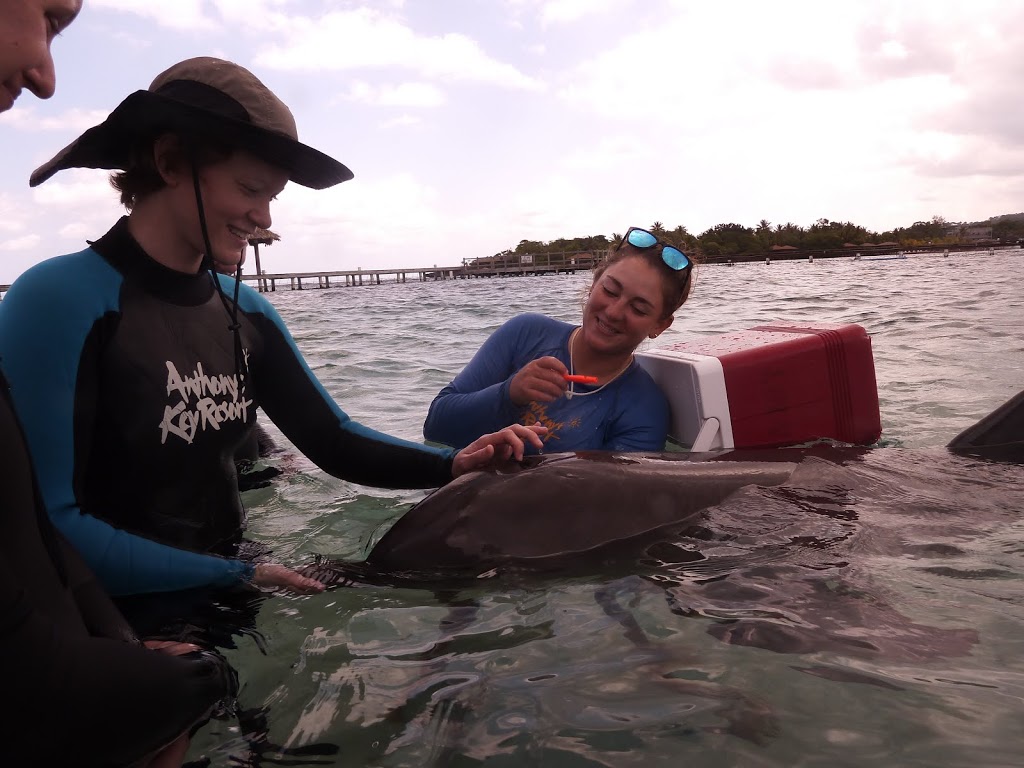 Saturday morning started much like other mornings with an early breakfast. We needed to be at RIMS for 7:45am through so no extra cups of coffee. Not that I think we needed it as we had two exciting activities left for our day.

First up was a lecture on Bottlenose dolphins, with information about their anatomy, adaptations and mating behaviors. We learned that dolphins shed their skin every 2 hours to make sure they stay streamlined! And this is also why they are so smooth! Also, we learned about how amazing their echolocation is!

We then got on the 'Titanic', yes we were all a little nervous but no icebergs had been sighted except in my ice tea so we figured we'd probably be fine. Titanic took us to Bailey's key where RIMS's 20 dolphins are housed, trained and used for research. Although many of us are concerned about animals in captivity we were all happy to learn that these dolphins don't seem to want to leave. In fact they take them out of the reserve on open water dives but they never leave. Some of their dolphins mate, and have babies, a few of which are still at RIMS, while others are sent in juvenile pods to other research facilities around the world to ensure we continue to learn about this amazing species.

I think we all turned into 5 year olds with our dolphins. Trainer's had us all line up, shoulder to shoulder, because they are apparently sneaky and like to swim between guests. We had some information about their amazing skills, ability to learn etc. We gave them belly stritches and our dolphins were adorable. We then got to have hugs with our dolphin and kisses from them. Photos were achieved! After a little more interaction with the trainer we were allowed to swim in the enclosure with them. A lot of us figured out they are playful and will play catch with the eel grass.



When we'd finished melting into gooey little piles we headed back to RIMS for our last dive of our trip. This time we were taking our students a little deeper – around 32 meters or 100 feet. The purpose was to see a wreck that had been sunk to provide an artificial reef – basically a substrate for coral and fish to live on and in. "El Aguila" or "The Eagle", was a cargo vessel that originally sank in 1989. It was then salvaged and brought to Roatan by Anthony's Key Resort in 1997 and re-sank.


Seeing a wreck underwater is a bizarre experience. You're seeing this man made structure that is covered in life. We took an opportunity for a 'king of the world' group photo shot and then headed up to shallower depths before our decompression/safety time ran out.



Then it was back to rinse off our gear for the last time, and return it, before heading for lunch.

I'll admit, we are all a little tired so we took some time to relax and then headed to town, West End, for a little souvenir and coffee shopping.



Dana, Chicora and I found Chestnut coffee shop, where Chicora and I reveled in a cold espresso drink, our first in some time! Honduran coffee is really good, but neither of us had espresso all week and our minds needed a caffeine burst.

One of our trip mascot's needed an afternoon out too!



After returning from West End we had dinner, then headed to RIMS to look through all our photos. While we had planned on games and some social time we were all tired and still needed to pack.

The Global Environmental Change Marine Conservation group though did their last few tests for their research hypothesis.



I took a moment to watch our last sunset on the island. I will sure miss these and the wonderful individuals we've come into contact with this past week. Our hosts were amazing, our students learned so much and had such a wonderful time! Thank you Anthony's Key!