Sunday – Time for Goodbyes!
Sunday started with a little last minute packing and then it was off to our last breakfast. We took one of our last trips across from the Island to the mainland, and then met with
Jenn, our RIMS scientist, for breakfast. She was a welcome guest bringing us some island coffee that we'd all asked for before we left the resort.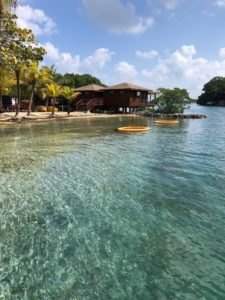 After breakfast some of us headed to look at photos taken at our dolphin encounter the day before and then it was time to head to the airport. We said goodbye to some of our new friends, including Gringo, Mandy the night manager's dog.



We all safely checked in, some students got some food at the snack shop in the airport and shortly after we boarded the flight for Houston. I think Jamie was a little shocked how large her sandwich actually was!


It was then time to leave the island.. until next year.


We safely, and fairly easily, passed through immigration in Houston. As it was Sunday it was fairly quiet. Heading to our gate we grabbed food and then boarded our flight back to San Francisco.

Once back home, we grabbed our bags, said goodbye and headed back to Mills.

… The End!